Gluten Free Sugar Cookies
This is my sister-in-law's recipe. I tweaked it a little (like a do with all recipes). I added the almond extract because the cookies tasted a little bland. They are a little crumbly when you eat them, so far warning if you have a small child enjoying them, it might get a little messy. These are super tasty cookies that everyone loves. People have a hard time believing they are Gluten-Free. Enjoy!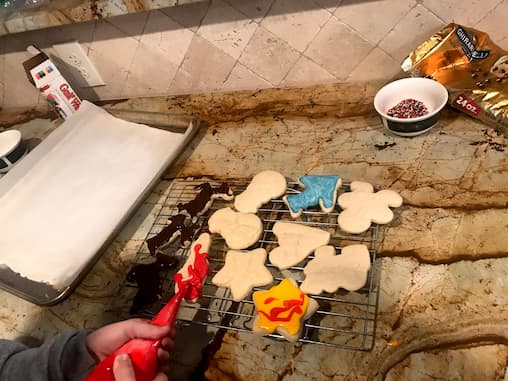 [rank_math_rich_snippet id="s-4f25dd94-f572-4273-aa4c-591173c443c2″]
Stir (sift) together the flour, salt and baking powder and put it aside
Cream together the butter and the sugar until smooth. (I use my stand mixer for this)
Mix in the eggs, vanilla and almond extract
Slowly mix in the dry ingredients
Once the dough is formed, cover and refrigerate it for at least an hour (this is a huge tip for GF baking).
After the dough has chilled for at least an hour, preheat the oven to 375 degrees F.
Cookie (baking) sheet needs to be lined with parchment paper (another GF baking tip)
Roll out dough on a sugar covered surface until it is ¼ to ⅓ inch thick.
Place cookies on the lined sheet about 1 inch apart.
Bake for 8-10 minutes
Makes 24 cookies
High altitude (above 5000 ft) add 2 Tbl spoons of GF flour and 1 Tlb spoon of water.
Come In for an appointment and get Spoiled MORE with Christmas Goodies.