Introduction to Dr. Carolyn Gochee Chiropractor
Understanding Chiropractic Care
Benefits of Chiropractic Treatment
How Dr. Carolyn Gochee Incorporates Holistic Principles in Her Practice
Techniques Used by Dr. Carolyn Gochee Chiropractor
Conditions Treated by Dr. Carolyn Gochee Chiropractor
Introduction to Dr. Carolyn Gochee Chiropractor
Dr. Carolyn Gochee is a renowned chiropractor who takes a holistic approach to wellness. Dr. Gochee's unique perspective and dedication to her patient's well-being have made her one of the leading chiropractors in Grand Junction.
Understanding Chiropractic Care
Chiropractic care is a form of alternative medicine that focuses on the diagnosis and treatment of mechanical disorders of the musculoskeletal system, particularly the spine. It is based on the belief that these disorders can have a profound impact on general health by affecting the nervous system. Through various techniques, chiropractors like Dr. Carolyn Gochee aim to restore proper alignment to the spine and alleviate pain and discomfort.
Chiropractic care is not just about treating symptoms; it is about addressing the root cause of the problem. By focusing on the spine and its relationship to the nervous system, chiropractors aim to promote the body's natural healing abilities. This holistic approach sets chiropractic care apart from traditional medical treatments, which often rely on medication and surgery.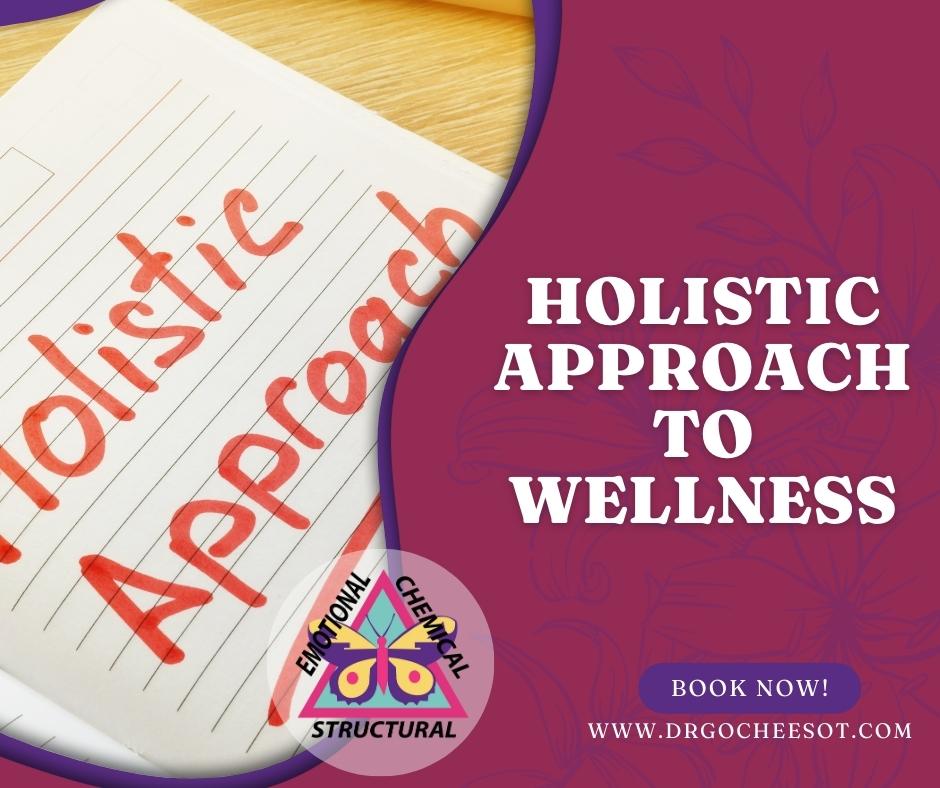 Benefits of Chiropractic Treatment
The benefits of chiropractic treatment are numerous and can have a positive impact on various aspects of your life. One of the key benefits is pain relief. Chiropractic adjustments can help alleviate back pain, neck pain, headaches, and other musculoskeletal discomforts. By addressing the underlying cause of the pain, rather than just masking the symptoms, chiropractic care provides long-term relief.
Chiropractic treatment also improves overall well-being. When the spine is properly aligned, the nervous system functions optimally, leading to improved communication between the brain and the rest of the body. This can result in increased energy levels, better sleep quality, and enhanced immune function. Additionally, many patients report improved mental clarity and reduced stress levels after receiving chiropractic care.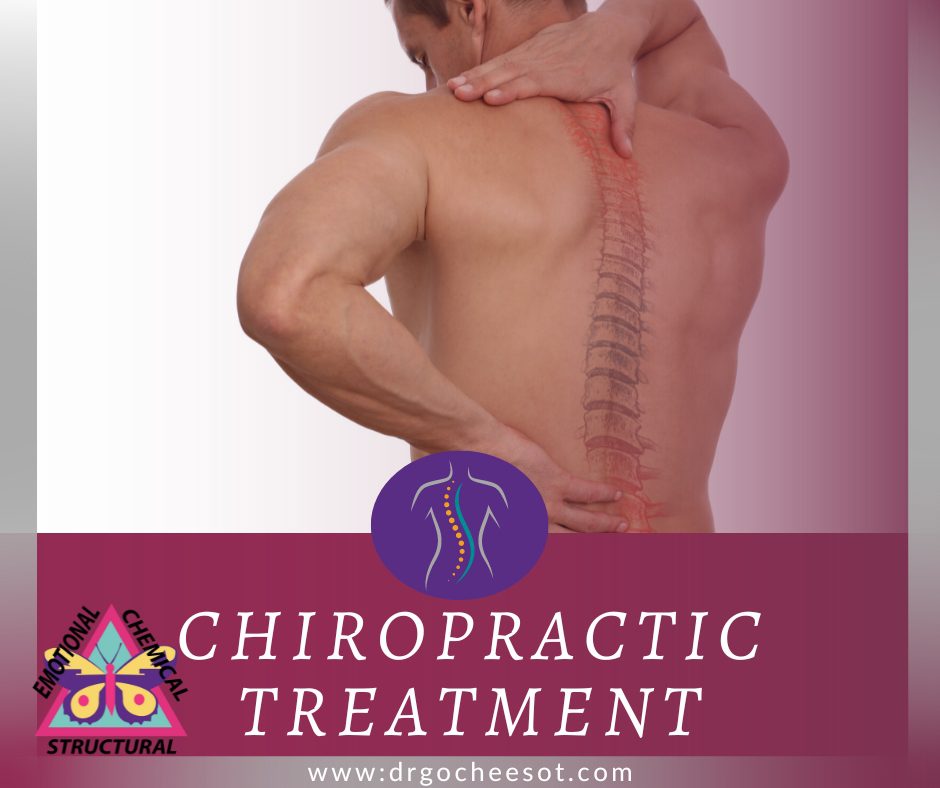 Holistic Approach to Wellness
Dr. Carolyn Gochee takes a holistic approach to wellness, which means she considers the whole person when developing a treatment plan. She understands that physical health is closely connected to mental, emotional, and spiritual well-being. By addressing all aspects of a patient's life, she can create a comprehensive treatment plan that promotes overall wellness.
This holistic approach involves not only chiropractic adjustments but also lifestyle modifications and nutritional counseling. Dr. Gochee believes in empowering her patients to take an active role in their own healing journey. She educates them about the importance of proper nutrition, exercise, and self-care practices. By addressing these lifestyle factors, she helps her patients achieve long-lasting results and prevent future problems.
How Dr. Carolyn Gochee Incorporates Holistic Principles in Her Practice
Dr. Carolyn Gochee incorporates holistic principles into her practice in several ways. First and foremost, she takes the time to listen to her patients and understand their unique needs and concerns. This allows her to develop personalized treatment plans that address the root cause of each patient's health issues.
In addition to chiropractic adjustments, Dr. Gochee offers a range of complementary therapies, including massage therapy, acupuncture, and nutritional counseling. She believes in the power of combining different modalities to achieve the best possible outcomes for her patients. By offering these services under one roof, she provides a convenient and comprehensive approach to healing.
Dr. Carolyn Gochee also emphasizes the importance of education and empowerment. She takes the time to educate her patients about their conditions and treatment options, empowering them to make informed decisions about their health. This collaborative approach ensures that patients feel heard and actively involved in their own healing process.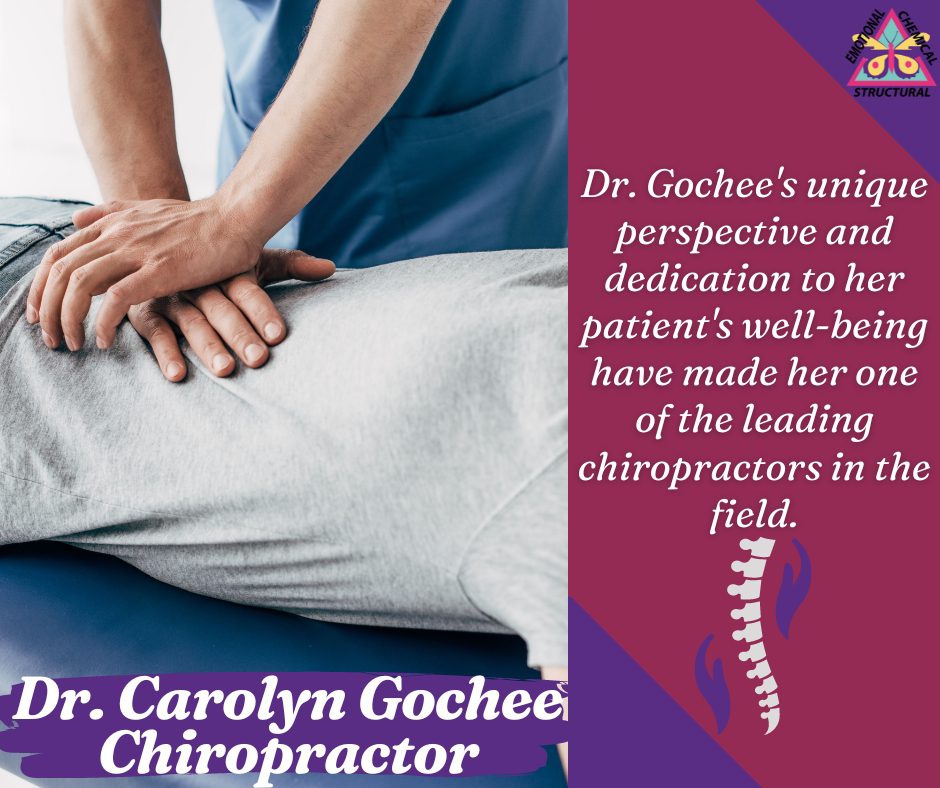 Techniques Used by Dr. Carolyn Gochee Chiropractor
Dr. Carolyn Gochee utilizes a variety of techniques to restore proper alignment to the spine and promote healing. One of the most common techniques she uses is spinal manipulation, also known as chiropractic adjustment. This involves applying controlled force to specific joints of the spine to improve mobility and alleviate pain.
Another technique commonly used by Dr. Gochee is Sacro Occipital Technique (SOT)®/Craniopathy. This technique uses pelvic blocking in combination with both low-force and the HVLA style of adjusting.
Dr. Gochee also incorporates Applied Kinesiology. This is a secure and gentle form of holistic therapy that utilizes muscle testing to assess neurological functioning.
Using Neuro Emotional Technique (NET), Dr. Gochee will help you remove the Neuro Emotional Component (N.E.C.) that might be causing recurring pains.
Conditions Treated by Dr. Carolyn Gochee Chiropractor
Dr. Carolyn Gochee treats a wide range of conditions using chiropractic care and other complementary therapies. Some of the most common conditions she treats include back pain, neck pain, headaches, sciatica, sports injuries, and carpal tunnel syndrome. Additionally, she has experience working with patients suffering from chronic conditions such as fibromyalgia and arthritis.
Whether you are seeking relief from acute pain or looking to improve your overall well-being, Dr. Gochee can help.