Today is Mabel Palmer's Birthday! Mabel Heath Palmer was born on June 5th in Milan, Illinois. She was known as both the "First Lady of Chiropractic", and the "Sweetheart of the Profession". Therefore, June 5th marks the National Women Chiropractors Appreciation Day.
Mabel Heath Palmer, D.C., F.P.A.C. is much heralded in the chiropractic field. She was a leader and inspiration to female chiropractors, successfully combining her role as wife and mother with teaching at Palmer for more than four decades.
Mabel Heath Palmer, a pioneer graduate of the Palmer Institute and Chiropractic Infirmary in 1903, who later became an early faculty member of the Palmer School, married Bartlett Joshua Palmer in Davenport on April 30, 1904. Became a Doctor of Chiropractic in 1905. A recognized authority on anatomy and an instructor at the school for more than 35 years, Mabel Palmer was a close and valued adviser to her husband in all phases of the chiropractic profession. She was a popular lecturer throughout the chiropractic profession and became known as The First Lady of Chiropractic.
Mabel Palmer met B.J. Palmer, D.C., while she was an apprentice organist. They married in 1904.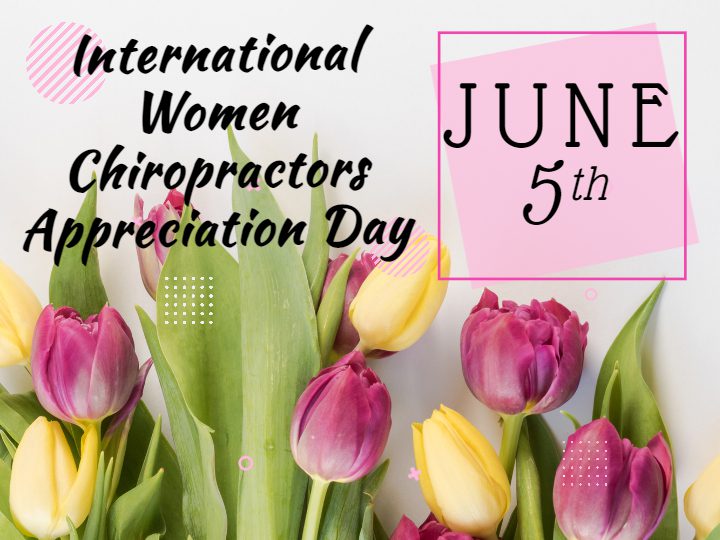 Mabel Palmer had a tremendous impact on the development of chiropractic, especially in promoting the profession to women.
The chiropractic profession is currently made up of a majority of male practitioners, which is contrary to the percentage of chiropractic patients, typically estimated to be about 60% female. Every day, more women are studying and practicing Chiropractic.
The Chiropractic profession in the U.S. is becoming increasingly diverse with the inclusion of more female practitioners. The proportion of women in the profession has more than doubled compared to 1991.