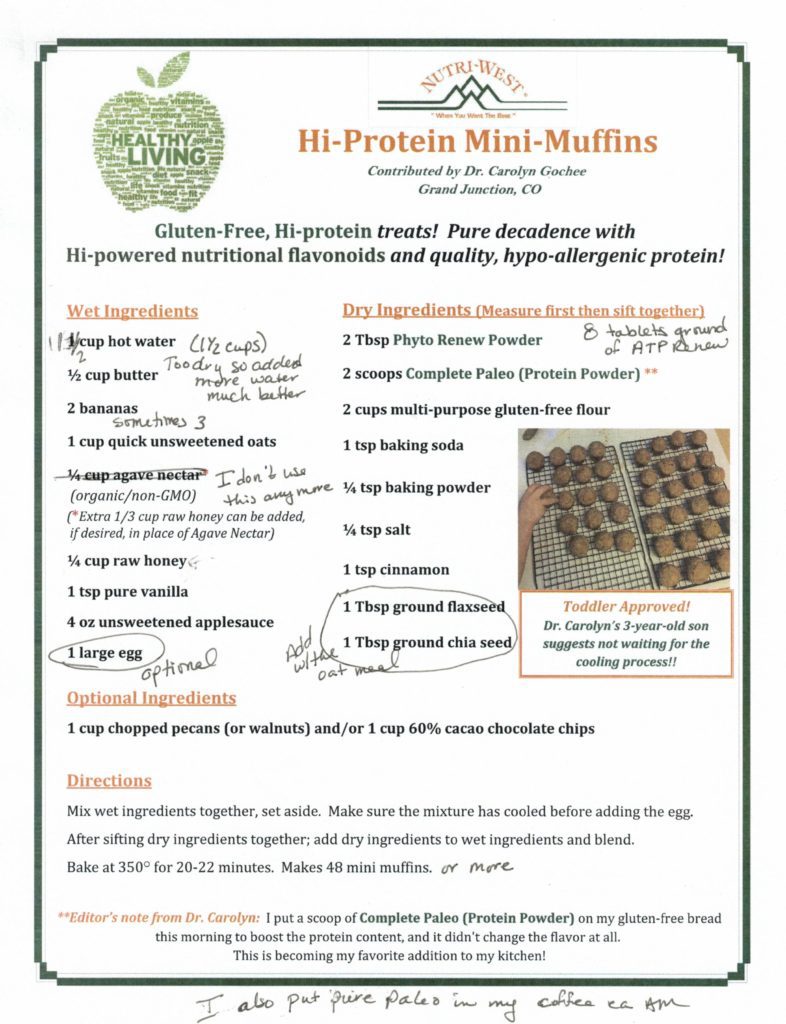 Healthy Muffins (a Dr. Gochee creation)
Wet Ingredients
1 ½ Cup of hot water
½ Cup of butter
2 Bananas (or 3)
1 Cup of GF Quick Oatmeal
1/3 Cup of Raw Honey
1 tsp. of pure vanilla
4 oz. of unsweetened applesauce
1 large egg (optional works as a great binder when cooking GF)
Dry Ingredients (Measure first then sift together)
2 Cups of All-Purpose Gluten-Free Flour
1 tsp. of Baking Soda
¼ tsp of Baking Powder
¼ tsp of salt
1 tsp of cinnamon
1 Tbsps. of ground flaxseed
1 Tbsps. of ground chia seed
2 Tbsps. of NW Phyto Renew Powder
2 scoops of NW Complete Paleo (Protein Powder)
16 tablets of Ribose ATP (ground to make powder)
Optional Ingredients
1 Cup of Chopped Pecans (or walnuts)
1 Cup of 60% Cacao chocolate chips
Mix all the wet ingredients together and then set aside. Make sure the mixture has cooled before adding the egg.
After sifting the dry ingredients together add the dry ingredients to the wet ingredients.
Bake at 350 degrees for 20-22 minutes.
Makes 48 mini muffins.
If these are sweet enough for you, you can replace the agave nectar to ½ cup of organic brown sugar and reduce the raw honey from ¼ cup to 1 Tbsps. You may have to add an extra tablespoon of water if you do that.